Related articles
Buying equestrian products online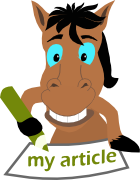 Buying a treeless saddle
A brief overview of what a treeless saddle is, the pros and cons of a treeless saddle and the price you would expect to pay.
Treeless saddles have been predominantly used by endurance riders for almost 20 years, due to the level of comfort they provide for both horse and rider. The treeless saddle is now becoming ever popular within other equestrian disciplines and general riding in the UK.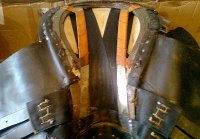 What is a treeless saddle?
Traditional saddles have an inbuilt tree to provide total clearance of the horse's spine, therefore avoiding direct pressure on the horse's spine, which can cause discomfort for the horse and damage to the horse's back. Treeless saddles don't have a tree but instead have thick pads / panels of foam, leather, vinyl or fleece to cushion the horse's back. Well fitted treeless saddles using appropriate padding where appropriate, should not place any direct pressure onto the horse's spine.
(Image right: A traditional saddle tree)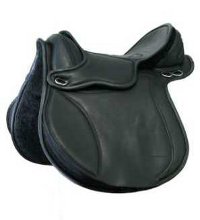 Why choose a treeless?
Many people are now opting for treeless saddles because they:
* Allow full range of movement for the horse, allowing free movement through the horse's shoulders
* Fit a wide range of horses
* Adapt to horses with high withers, wide backs and uneven shoulders
* Are designed for maximum comfort for horse and rider
* Allow close contact with the horse allowing the rider to feel the horse's movement
* Mould to the shape of the horse's back over time and become even more comfortable for the rider the more the saddle is used.
(Image right: A treeless saddle)
Potential problems
Rider's balance - The rider needs to be balanced and have a quiet seat because the horse has greater contact with the rider and therefore feels more of the rider's movement.
Rider weight - Always check with the supplier for weight restrictions for their saddles. Some treeless saddles are not suitable for very heavy riders and extra pads are required for saddles used with heavy riders to ensure there is no pressure on the horse's spine.
Riding position - Treeless saddles can make the rider sit wider than a conventional saddle would, which doesn't suit everybody. Some riders also miss the twist provided by a conventional, treed saddle.
Correct fitting - Don't assume that because the saddles can fit multiple horses that they don't need to be carefully fitted. If you are buying a treeless saddle you must make sure that the appropriate pads are used to protect the horse's spine. The company selling you the saddle should offer a fitting and advice service.
Choosing a treeless saddle
When shopping for a treeless saddle you should take into consideration:
* The weight of the rider – always ask the supplier about weight restrictions and padding required to suit the rider's weight.
* The build of the horse or pony
* What activity it will be used for – speak to suppliers about the disciplines you wish to take part in. If you plan to compete, find out if treeless saddles will be allowed for your disciplines before you buy.
* The riding position you want – e.g. Heather Moffett treeless saddles enable the rider to have a classical riding position whereas Libra Trek saddles put riders in a bareback riding position.
* How much money you have to spend.
Types of treeless saddle
Materials - can be leather, synthetic, equi leather, and nubuck.
Gullets - you can buy a treeless saddle with a gullet or without a gullet. The saddles without gullets will always need a special pad to provide spinal clearance. e.g. Barefoot Saddles and Libra Trek Saddles don't have gullets.
Disciplines – there are many treeless saddles on the market that are designed for specific disciplines such as dressage, jumping and cross country. Do make sure you check restrictions for competition entry for treeless saddles.
Treeless saddle accessories
Pads - protective pads should be used with a treeless saddle to create a channel over the horse's spine. This is particularly crucial if the saddle has no gullet, pads must be used to protect the horse's spine from any direct pressure. The type, shape and number if pads used will depend greatly on the saddle, the shape of the horse's back and the weight of the rider. Some treeless saddle pads have built in pockets for shims to add extra padding to help adjust the fit of the saddle.
Girths - treeless saddles require longer girths in order to avoid the girths hitting the elbows. The saddles without gullets will need to be girthed up to the base of the pad in order to prevent slipping.
Knee rolls – treeless saddles can come with adjustable knee rolls, which are attached with velcro to allow the rider to change their leg position.
Stirrups - treeless saddles often have closed D rings for the stirrup leathers, unlike conventional saddles which have open D rings to help prevent dragging. Safety stirrups or Barnes Buckles should be used with treeless saddles.
Price guide
From £99 for a synthetic treeless saddle to over £2,000 for the higher end saddles. You also have to take into account the cost of accessories such as pads, girths, stirrup leathers, stirrups etc.
Treeless saddle tips
* Always try several treeless saddles before you buy
* Always gain professional fitting and advice before purchasing, try to choose a supplier with UK agents who can correctly fit the saddle for you.
* Try to get a treeless saddle on trial before you buy, many retailers now allow customers to pay a refundable deposit to try the saddle.
* Use a breastplate with a treeless saddle to help prevent the saddle from slipping back and turning.
* Buy a named brand of treeless saddle but do undertake some research beforehand
* Shop around for pads and opt for the ones with pockets for shims to adjust the level of padding
* If possible, hire a pressure testing pad such as the 'Port Lewis' pad to ensure that the saddles you are trying don't cause discomfort / pressure points for the horse.
* Use safety stirrups or Barnes Buckles on treeless saddles as many treeless saddles have closed D rings which prevent the stirrup leather from being pulled away and therefore risks dragging.
* Avoid nubuck saddles as they wear easily and require a high level of care.

Image source:
Top picture of saddle tree - 'Wikimedia Commons'
Picture of treeless saddle – Dream Saddle, designed by Dream Team Products.