Related articles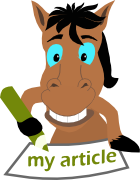 Equestrian gifts that won't break the bank
If you are shopping for a horse owner or horse rider, Equine Compare is the place to find a great deal. Here are some ideas for equestrian gifts that can be found using Equine Compare.
Free
Pledge some of your time to help out your friend. With so much to do looking after horses, this will be really appreciated. You can use our free software to create an official looking certificate explaining your pledge. See our horse pledge page for details.

Under £10
Horse photo frames are a nice idea, especially if you can get hold of a photo of their horse to put in it. You can find lots of designs that are very horsey.
Jewellery is well received by most girls. You can find horse themed necklaces, bracelets and earrings.
Mugs are an easy gift, with cute, funny or photo realistic designs.
Under £20
Alarm clocks have various designs for kids including the popular Tyrrell Katz. You will also find some more adult wall clocks.
PC CDRoms, such as the Equitest advantage eventing PC CD-ROM can be an interesting gift to help riders improve with their hobby.
Brass name plates for the stable door or tack look stylish and a little more expensive.
Wheel covers for people with four wheel drives include horse designs that add a nice touch to their vehicle.
Under £30
Grooming kits can be found for various price ranges. Use the price filter when searching to restrict the results to your budget. New horse owners will really appreciate this one.
Gift Sets are a bit of a wildcard entry. Search for these to get different ideas. Gift sets can include collectables, clothes, jewellery and more.
Gift vouchers
If in doubt gift vouchers are a good way to go. They are available from most online retailers. Just make sure that the shop is likely to stock the products your friend will be interested in and that they have a good reputation in terms of delivery and customer service.
Find them all
You can quickly and easily find all the gifts above from multiple shops in the Gift Ideas page of Equine Compare.